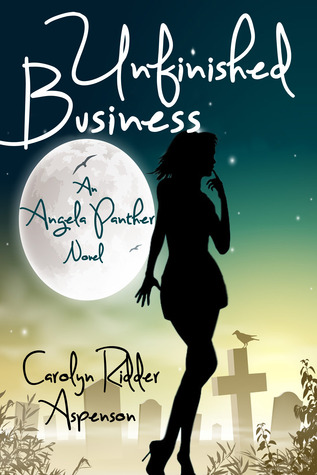 Title: Unfinished Business An Angela Panther Novel
Author: Carolyn Ridder Aspenson
Published: March 25th 2014
Blurb from Goodreads:
In UNFINISHED BUSINESS AN ANGELA PANTHER NOVEL, #1 AMAZON bestselling author Carolyn Ridder Aspenson introduces her now trademark blend of witty dialog and hilarious banter in the first book of her hilarious and heartwarming paranormal chick lit, cozy mystery, Angela Panther series.
When Angela Panther's mother Fran Richter wakes her up in the middle of the night ranting about stolen Hershey Bars, Angela thinks her mother's got a screw loose. And then it hits her. Her mother is dead. Just a few hours before, Angela watched as the funeral home staff nearly dropped her mother's body off the gurney while sliding her into the hearse. So maybe she's the one that's nuttier than a fruitcake?
But Fran keeps popping in and with a volcano full of drama already brewing at home—crazy or not—Angela's grateful for her mother's presence.
It's the other ghosts Angela can do without.
Seems Fran's return opened a portal between Angela and the other side and ghosts are hitting up the reluctant psychic medium for help. From the naked British guy juggling balls in the coffee shop parking lot to the woman desperately trying to save her sick child, Angela must find a way to balance her own life with the unfinished business of the dead.
Review:
This was a great book to read. Even though it starts with the death of Angela's mother, the author managed to make this a very funny story. Her mom was very head-strong and interfering, like only a mother can.
Angela needs to deal with a lot and at times she thinks she's going crazy. This is a real nice story and even if you don't have to deal with ghosts trying to infiltrating your life, you will relate to Angela and her nutty mother.
Rating: